RESIDENTIAL HOME INSPECTION 
ALL HOME INSPECTIONS INCLUDE A 90 DAY WARRANTY AND A 5 YEAR ROOF LEAK REPAIR COVERAGE AT NO ADDITIONAL COST
Standard home inspection or 11 month warranty inspection up to 2,000 Sq. ft  – $350
Each additional 500 Sq. ft – $50
ANCILLARY INSPECTIONS
Wind Mitigation – $150
4-point – $150
Roof Certification or Roof Inspection – $150
Sewer Scope – $250
Sewer Scope with home inspection – $150
Click here to view a sewer scope report 
Irrigation Audit – $250
Irrigation Audit with home inspection – $150
Click here to view an irrigation report
Water Testing – $250
Total Coliform and E.coli (AKA Escherichia coli) analysis. This test is typically required by VA, FHA, and USDA lenders if the home is serviced by a well. Check with your lender to see if this test is required. The turn around time for the lab results is typically 48 hours. Reports are emailed directly to you.
ADDITIONAL SERVICES
Specialty Inspection – $200
Re-inspection – $150
Commercial Inspections and Commercial Wind Mitigations require a proposal
Request proposal Jay@2020InspectionSolutions.com
RESIDENTIAL HOME INSPECTION 
There are several different types of inspections. The most common is the residential home inspection which is typically preferred by home buyers. The residential home inspection is a general physical assessment of the current condition of the home. Ancillary inspections, such as wind mitigation/ 4-point/ roof certification, are typically required by insurance companies. These type of inspections are used to evaluate, verify, and document specific components of the home that insurance companies look for when providing a homeowners insurance quote.
ANCILLARY INSPECTIONS
The ancillary prices below are stand alone prices. When combined with a home inspection the ancillary inspection price is discounted by 40%. As an example a $350 home inspection + $150 wind mitigation inspection = $440 total. A $150 wind mitigation + $150 4-point = $240 total. When ordering an inspection online submit a request for all inspections you are requesting and once the inspection request is received the discount will applied and a confirmation email will be sent to you.
ADDITIONAL SERVICES
A specialty inspection is used for inspecting a specific component or system. Inspection of plumbing, electrical, crawlspace, or infrared are examples of specialty inspections. Locating a plumbing leak or faulty electrical component area also examples of a specialty inspection.
A re-inspection is typically used by a buyer after an initial residential home inspection has been completed and the seller has made repairs. This inspection verifies repairs were made correctly.
Manufactured Home Tie-Down Certification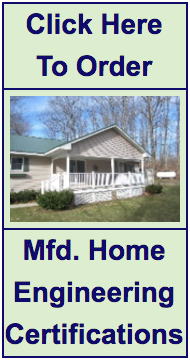 Investigative Home Inspections in Central Florida
We can inspect homes located throughout Central Florida, in Orange, Osceola, Lake, Volusia, Brevard, Seminole and Polk counties.
At 20/20 Inspection Solutions, we offer a professional home inspection that is designed to ensure that your prospective home purchase is able to satisfy your family's long-term needs. Contact us today to request an inspection.
Appointments are available on weekends and evenings by request. We accept online payments for your convenience.
CONTACT US
CALL:
TEXT:
EMAIL:
5717 Jones Rd
St Cloud, FL 34771